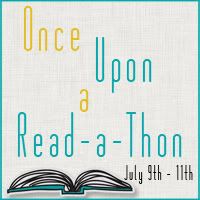 I don't think this Read-a-Thon could possibly have been scheduled at a better time for me. I haven't been reading as much as I used to, which means I don't have my usual abundance of reviews just waiting to be posted. No bueno for Typing Tiara. So I'm super psyched to participate in this challenge!
Books I Hope To Read:
Defiance by C.J. Redwine [130 pages in pre-Read-a-Thon]
Troll or Derby by Red Tash
The Iron Thorn by Caitlin Kittredge
The Nightmare Garden by Caitlin Kittredge
The Mortal Instruments Series by Cassandra Clare [MAYBE. Just got CoLS & I kind of want to do a reread]


Day One:
I participated in Loretta's Mini Challenge @ Between the Pages. :]

IB Book Blogging Mini Challenge:
(1) My favorite cover that has been revealed this summer would be, well, I don't pay a lot of attention to cover reveals normally so I'm not entirely sure when it was revealed. But I like Finale by Becca Fitzpatrick because Nora is leading Patch and not the other way around. Its a show of strength from a character that isn't always a strong heroine, I hope its true to the story inside.
(2) I do rely a lot on a cover, though I know we aren't *supposed to* judge books by their covers. I pick up books based on the covers all of the time, sometimes it works and others it doesn't. If the cover catches my attention I'm way more likely to read the book. If I don't like the cover I wait until I see a rave review or get a personal recommendation to pick up the book.