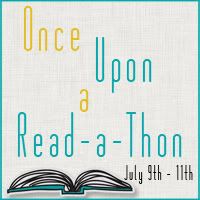 Books I Hope To Read:
Defiance by C.J. Redwine [Only a hundred pages left now...] (Finished at 10:13 AM 7/10/12)
Troll or Derby by Red Tash (About 40% as of 4:47PM 7/10/12)
The Iron Thorn by Caitlin Kittredge
The Nightmare Garden by Caitlin Kittredge
Across the Universe by Beth Revis [New Add on Day Two]
The Mortal Instruments Series by Cassandra Clare [MAYBE. Just got CoLS & I kind of want to do a reread]


So...in case you didn't notice, this is the same list that was posted on the first day of the read-a-thon which means I barely read anything. FAIL.




But I did participate in BOTH challenges for Monday so that is something. I'm hoping to knock out a few books today...like, maybe, three or four? Fingers crossed. I cannot believe I only read like...maybe a hundred pages yesterday. [I recovered! I curled up in bed last night and read like a maniac. So yesterday I read a grand total of TWO HUNDRED PAGES...nowhere near my usual counts but I'm only a hundred pages away from finishing Defiance now!!!!] I did visit a lot of the other bloggers that are participating in the read-a-thon though and did a heck of a lot of commenting, which was fun. It was great seeing everyone's reading piles and their methods of getting through the read-a-thon with the most books ready. Handy.
So LET'S READ.
Day Two:
Kindle Fever Mini Challenge:
Once upon a time in a strange alternate universe of insanity there was a girl named Evie and her faithful sidekick, Tasey. Evie and Tasey were out for a walk in a strange forest when they stumbled upon a strange, noseless creature. "A hag!" Evie cried out brandishing Tasey. "I AM NO HAG! I AM THE GREATEST WIZARD TO EVER LIVE!" Bellowed an angry, yet noseless Lord Voldemort as he struggled to free his wand from his robes. "And I'm the Queen of England!" Evie taunted as she gave him a zap of electricity and watched him crumple to the ground. Shortly after this an army of teenagers in similar robed attire came running up brandishing wands and yelling warcrys, their leader a scarred scruffy boy. "...You killed him? Really? Well...this is anticlimactic...So. Guys. Anyone up for a butterbeer?"
The End