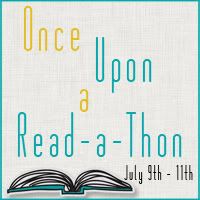 Books I Hope To Read:
Defiance by C.J. Redwine [Only a hundred pages left now...] (Finished at 10:13 AM 7/10/12)
Troll or Derby by Red Tash (Finished at 8:51PM 7/11/12)
The Iron Thorn by Caitlin Kittredge
Across the Universe by Beth Revis (Finished at 6:06PM 7/11/12)
So I don't seem to be kicking as much book butt this read-a-thon as I had hoped to. I just barely finished my first book of the read-a-thon yesterday morning and managed to get over half-way through my second. I would have gotten further on the second but my Kindle needed to recharge so I plugged it in and just crashed.
I'm still maintaining my goal of wanting to have read three or four books for the entire read-a-thon, I'm pretty sure at this point I can still pull that off. Three for sure, four is a maybe. I mean, I've almost got two books down.
I've still been spending most of my time hopping from blog to blog checking out the other read-a-thon posts and getting to know the other bloggers that are participating as well as chatting it up on Twitter...today though I'm really hoping to get some serious reading done. Hoping and wishing and thinking and praying. [It's Wednesday, I had to weasel that in there somehow!]
So there is my update on how I did yesterday and my gameplan for today, let's just hope I can keep to it. Lemme know how you guys are doing down in the comments, maybe get my competitive butt kicked into gear! :]
Day Three:
The Reader Bee Mini Challenge:
Hands down my most anticipated release of 2012, I canNOT wait to get my hands on this book. Just a few more months now!!!
Magnet 4 Books Mini Challenge:
And I participated in Alli's challenge over on her blog. :D