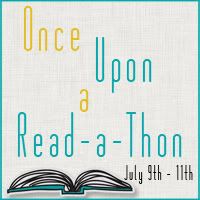 Books Read:
Defiance by C.J. Redwine
Across the Universe by Beth Revis
Troll or Derby by Red Tash
Total Pages Read:
1076
I didn't do nearly as well with the read-a-thon as I had hoped to. I mean I did say I wanted to read and review three to four books, which I did manage to do but I had secretly hoped I would do a heck of a lot better and yet I just barely pulled that off. The reading slump I've been stuck in lately was seriously working against me.
But on the brightside I had a lot of fun with the challenges and flitting from blog to blog making new friends and finding new bloggers to follow so I feel I came out pretty well in those regards.
So I'm okay with what I accomplished. But next year, next year I'm going to have the biggest stack of verse novels I can find and I'm going to kick my favorite competitor's butt. She knows who she is. xD
EDIT: And by this I mean Angela over at Reading Angel totally kicked my butt. She out-read me. She is the Queen of the Read-a-Thon. She traded in her halo for a tiara (that is apparently purple and covered in butterflies and books). [But I'm totally going to kick her butt in her Page Count Contest! Muhahahahaha!]
So, how did you guys do? :]