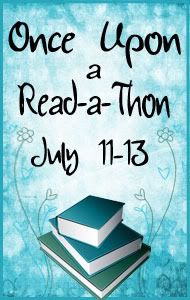 Hi you guys! I hope you're all having loads of fun with the read-a-thon. I love reading all of the different update posts and watching the vlogs. You guys are great! As for my own challenge, I'm nowhere near where I wanted to be. I had hoped to have read three or four books by now and I'm just barely sixty pages into my third novel. Probably has something to do with the fact that I'm reading thicker volumes than most but still it stings a little as I do tend to be a bit competitive. But I'm still having fun and now, rather than going by my list, I'm just reading what I feel like reading because I get through those faster and have more fun with them.
Next time for sure I'm going to stock up on lighter reads and some more novels in prose [which I love to read anyway] because those seem really popular and are a lot quicker to read. Happy reading!
Books I Have Read:
Beauty Queens by Libba Bray
Linger by Maggie Stiefvater

I'm Currently Reading:
Forever by Maggie Stiefvater

Pages Read:
810
MINI CHALLENGE [YA Bliss]:
This challenge took a bit of thinking on my part because there aren't many love triangles that make me falter; normally I know from the beginning exactly whom I want to end up with whom and that is that. But there are a couple of exceptions to that rule.
1. Will/Tess/Jem from Clockwork Angel by Cassandra Clare
2. Ash/Meghan/Puck from The Iron Fey by Julie Kagawa
3. David/Tally/Zane from Uglies Quartet by Scott Westerfeld