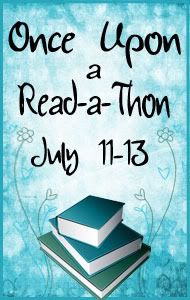 Hi you guys, it's Ash and I'm just checking in to give you my third and final update of the read-a-thon. I didn't get nearly as much read as I had hoped to...and only one of the books that I read was even in the stack of books that I had PLANNED on reading. But can you blame me? Linger and Forever by Maggie Stiefvater hadn't even arrived yet and I wasn't sure they were going to so it would have been silly to put them on the list. But they did show and I have no willpower so they were read and I LOVE them both.

And in case you were curious choosing to read the final book in a series you absolutely love is no good for a read-a-thon. At least it wasn't for me. Not because the book wasn't amazing, because it was but because it's the LAST book. I would enjoy a chapter, maybe a few of them, then slowly close the book and just stare at the cover for a few minutes because I knew that once I closed it for good it was all over. So of course I started dragging it out longer and longer. I'd read a chapter here and another there. I didn't want my time with these characters to end. [On that note, I was about sixty pages short of having finished Forever when midnight hit on the east coast...But I did finish before midnight on the WEST coast where I actually live] So there's another lesson learned, next read-a-thon I participate in I will not read the final book in any series for it is has proven itself to being deadly with wanting to get a lot of reading done in a short amount of time.

Books Read:
Beauty Queens by Libba Bray
Linger by Maggie Stiefvater
Forever by Maggie Stiefvater
I'm Currently Reading:
Nothing


Pages Read:
1136
MINI-CHALLENGES
Let's Play Matchmaker:
Another tough challenge because I've never thought about it before; typically characters stick to their own books in my head so to mix-and-match feels weird. But if I had to...
I would put together Tally from Scott Westerfeld's Uglies Quartet and Gale from The Hunger Games trilogy. They are both such dynamic characters that I think they would do well together. It's really hard to explain why I think they belong together, but when I looked up and saw both series above my head on the shelf they just seemed to click.
Book Recommendations:
The first
is
any
book of your choice. Pick any book you want and tell me and the world why it should be read and loved.
I would like to recommend The Adoration of Jenna Fox by Mary E. Pearson. I just recently read this book, within the last couple of weeks I'd say, and I loved it. I'd even go as far to say it's in my top three favorite dystopian-esque books. What I loved about it is not only does it cause you to question issues our world is already facing in regards to the medical field; it cause you to question what the choices we make now will lead to. What I love the most about it is that the main character, having lost her memories, is able to look at the issues from a variety of stand points AND talk to the other characters around her to give you the reader [and her as the main character] a more well-rounded view of the situation. I absolutely loved this book and I would love it if more people would pick it up. Mary E. Pearson's an awesome writer and I can't wait for the sequel.

The second is what you would pick as your favorite of the read-a-thon. You can chose to answer this question now, during the third day, or I'll give you one extra day to give that book just waiting to be picked up a chance. :)
My favorite book of the read-a-thon would probably be Forever by Maggie Stiefvater. I loved this book just as much as I loved the first two in the series [which you should really read before picking up this book]. Maggie Stiefvater has a way of writing that is just pure magic. I read Linger and Forever for the read-a-thon, and Shiver not too long before, and I can honestly say it's become one of my favorite series. These books are amazing.