I know, I know, I went and disappeared again after saying I wouldn't. But I did warn you at the end of last month that things were crazy hectic and just when I thought they couldn't get any crazier, they went and got the craziest yet. I wish I could give a definite date as to when I'll be back, probably expect me towards mid to late May, but I'm honestly not sure as of right now. I miss blogging so of course I want to get back to it as soon as I can set the rest of my world to rights. Just keep your fingers crossed that I can do that sooner rather than later!
And now for what you guys are actually here for, my wrap-up!
What I Read in April: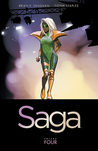 My favorite book of the month was easily Saga Volume Four, which for those of you who have heard me gush about the series as a whole shouldn't come as too big of surprise. But Brightly Burning by Mercedes Lackey was a fantastic addition to the Heralds of Valdemar series, which if you haven't checked out yet you definitely should. And if you're a fan of horror, particularly slasher films, then The Last Final Girl has your name written in blood all over it.
Oh! And for all of you who went ahead and recommended that I check out Cress despite my disappointment with Scarlet, THANK YOU. You guys were so right. It totally restored my love for the series.