So while typing up November's TBR at the beginning of the month and bemoaning the fact that I had half a dozen major assignments in need of completing over the course of the month I neglected to factor in one very important fact about my reading habits which is the fact that WHEN I PROCRASTINATE I READ.
So while in theory I shouldn't have gotten any reading beyond assigned readings and research done I instead managed to make a decent-sized dent in my TBR shelves. I was a freaking reading machine. [I wish I could say the same about my schoolwork!]
So I think I can confidently say that this November is like my biggest wrap-up in forever, if not ever. Honestly I'm not even sure how I managed to read everything that I read this month. @.@

But if I can just manage to pull this off for a few more months in a row I might actually notice a change in my TBR...maybe...possibly...it's not gonna happen, is it? xD

So. Albeit a little early [but I really need to buckle down and work anyway]...
What I Read: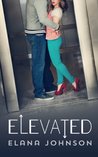 (1)
Never Say Never
by Kailin Gow [4/5]
(2)
Never Land
by Kailin Gow [2.5/5]
(3)
Never Ending
by Kailin Gow [2/5]
(
4
)
Elevated
by Elana Johnson [2.5/5]
(5)
Sloppy Firsts
by Megan McCafferty [3/5]
(6)
Second Helpings
by Megan McCafferty [3.5/5]
(7)
Charmed Thirds
by Megan McCafferty [3.5/5]
(8)
Frankenstein
by Mary Shelley [4/5]
(9)
Fourth Comings
by Megan McCafferty [3.5/5]
(10)
Mastiff
by Tamora Pierce [3/5]
(11)
Agnes Grey
by Anne Bronte [4/5]
(12)
Just Listen
by Sarah Dessen [5/5] - Reread
(13)
Desperate Duchesses
by Eloisa James [3/5]
(14)
Ten Things I Love About You
by Julia Quinn [4/5]
(15)
Boy Crazy
by Hailey Abbott [2/5]
(16)
The Lady Risks All
by Stephanie Laurens [2/5]
(17)
Supergirl Volume One: Last Daughter of Krypton
by Michael Green, Mike Johnson, and Mahmud Asrar [3/5]
(18)
Woman Hollering Creek and Other Stories
by Sandra Cisneros [3/5]
(19)
The Morganville Vampires, Volume One
by Rachel Caine [3/5]
(20)
Perfect You
by Elizabeth Scott [2/5]
(21)
The Perfect Christmas
by Debbie Macomber [3.5/5]
(22)
Wonder Woman, Volume One: Blood
by Brian Azzarello, Cliff Chiang, and Tony Akins [2/5]
(23)
The Duke is Mine
by Eloisa James [3/5]
(24)
Wish
by Alexandra Bullen [2/5]