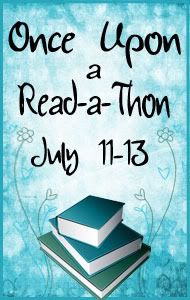 Hi you guys! In case you don't know by now, or you're new here, I'm Ash of the Typing Tiara and this is my FIRST ever read-a-thon. I signed up to do one last month but unfortunately my plans got screwed up the day of the event so I was unable to participate. Total bummer. Buuuut the good news is that nothing is standing in my way this time. Aside from the fact that I just found out my boyfriend has Monday and Tuesday off. Which could be a distraction but I'm still going to try because this is my FIRST ever read-a-thon.
Can you guys tell that I'm excited?
Anyway, Alli from Magnet 4 Books Review spent some time with me trying to figure out what I was going to read and we finally agreed on SEVEN titles. Most of which I'm pretty sure she's just wanting me to read so she can live vicariously through me. But I don't mind because they are all AWESOME titles that I can't wait to read either. So, without further ado, I present the SEVEN books I am going to attempt to read for the read-a-thon:
(1) Wildefire by Karsten Knight [Re-Read for Review <3]
(2) Impossible by Nancy Werlin [Re-Read for Review]
(3) Extraordinary by Nancy Werlin
(4) Beauty Queens by Libba Bray
(5) The Lucky Kind by Alyssa B. Sheinmel
(6) Abandon by Meg Cabot
(7) The Lovely Bones by Alice Sebold
I'm not entirely sure that I can get through all seven of these books...and not just because I'll be trying to read all of them in about three days but because I'm going to also try to WRITE REVIEWS for them as I go. I can see your eyes bugging out, you think I'm crazy. I probably am. But I've learned my lesson about waiting on writing reviews and I don't plan on letting it happen to me again. So I'm going ultra crazy with this read-a-thon.
So, that's what I'm going to attempt for the Once Upon a Read-a-Thon. What are you guys going to try and accomplish? Good luck you guys! <3