Top Ten Tuesday is a meme hosted by
The Broke and the Bookish
where a new topic is given each week by the host blog and participants write up a corresponding list of ten things. Simple, fun, and great for those obsessed with lists. This week's topic is: Top Ten Books You Would Classify As ALL TIME FAVORITE BOOKS from the past 3 years (you can extend it to 5 if you need to).
So these are in no particular order as I just scanned through my Goodreads lists for the past three years and picked out titles that fit the bill. Also, these are just books that I've read in the past three years not necessarily books that were released in that time frame. But still, FAVORITES.
(1)
Assassin's Apprentice
by Robin Hobb - SO GOOD. I liked the whole trilogy but this book was just reading magic for me. I was sucked in from word one and it just didn't let go. A go to fantasy recommendation for me, though it isn't my number one recommendation.

(2)
Fangirl
by Rainbow Rowell - Pretty sure everyone saw this title coming. I've officially lost count of how many times I've reread this.
(3)
Mistborn: The Final Empire
by Brandon Sanderson - Pretty much my go to fantasy recommendation, and in some cases just plain book recommendation, when anyone asks me.
(4)
Queen's Own
by Mercedes Lackey - This book made me fall in love with the world.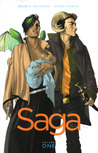 (5)
Saga, Volume One
by Brian K. Vaughn and Fiona Staples - I don't think I'll ever fall out of love with this series. I can't believe I still haven't read the fourth volume!

(7)
Pushing the Limits
by Katie McGarry - Another book that I've lost track of how many times I've read it. I seem to pick it back up, at least to read a chapter or two if not the entire book, every few months. I just really relate to these characters and love their story and it gets me every time.
(8)
Where She Went
by Gayle Forman -
If I Stay
didn't do a thing for me, looking back I only recall the basics. But this book just destroyed me. And I will always love it for that.
(9)
A Game of Thrones
by George R. R. Martin - My first real introduction to adult epic fantasy. And the series that almost was my undoing during midterms. (Yes, I was brilliant, I started devouring these books during exam time.)
(10)
Poison Study
by Maria V. Snyder - I don't even have words for this one. It's a flawless fantasy story for me. Just...sigh.