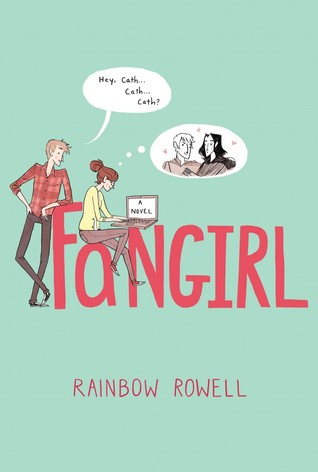 A coming-of-age tale of fan fiction, family and first love.

Cath is a Simon Snow fan.

Okay, the whole world is a Simon Snow fan...

But for Cath, being a fan is her life—and she's really good at it. She and her twin sister, Wren, ensconced themselves in the Simon Snow series when they were just kids; it's what got them through their mother leaving.

Reading. Rereading. Hanging out in Simon Snow forums, writing Simon Snow fan fiction, dressing up like the characters for every movie premiere.

Cath's sister has mostly grown away from fandom, but Cath can't let go. She doesn't want to.

Now that they're going to college, Wren has told Cath she doesn't want to be roommates. Cath is on her own, completely outside of her comfort zone. She's got a surly roommate with a charming, always-around boyfriend, a fiction-writing professor who thinks fan fiction is the end of the civilized world, a handsome classmate who only wants to talk about words... And she can't stop worrying about her dad, who's loving and fragile and has never really been alone.

For Cath, the question is: Can she do this?

Can she make it without Wren holding her hand? Is she ready to start living her own life? Writing her own stories?

And does she even want to move on if it means leaving Simon Snow behind?
I don't think I've ever related to a character quite the same way I related to Cath. From the first page I was practically wondering if Rainbow Rowell somehow knew me and was writing my story. In so many ways I was, and still am, Cather Avery. I know her anxiety, I know her excitement for her fandom, I know her shyness, I know how easy it is to hide away rather than to ask...I know her because I know me. I loved reading about Cather because she was that type of character and you don't come across them very often. So many "shy" girls in YA come out of the closet and blossom into social butterflies, or pretty darn close, halfway through the book or at least by the end. And it isn't the most realistic thing. And it's okay. It's okay that that doesn't happen to everyone. But it isn't represented often. And it is in Cath. And that's why I adore her, and consequently Rainbow Rowell for writing her.
But it wasn't just Cath; Rainbow Rowell crafted an entire cast of characters who felt real. Any one of them were developed enough that they could have been the main character in the story. They weren't just supporting characters in the usual cardboard cutout mold, they were real, oh so very real. They had stories of their own. They had lives outside of Cath that occasionally intertwined with hers and is how they wound up in the story, but they had their own things going on. I would love novellas on almost every single one of them. [And yes, I do love Levi. Oh so very much.]
Fangirl
is a magical book. But it isn't the type of fairy godmother waving a magic wand and making everything perfect type of magic, it's the special kind of magic that doesn't come along very often. It's the kind of magic that you can hope for. It's the kind of magic that you can believe in. It's beautiful and it's sweet and it's relatable...and so much more. It's about coping, it's about first year away from home, it's about starting university, about following your dreams, about siblings and family, about making friends and first love. It's magic and it's a new favorite of mine.
5/5