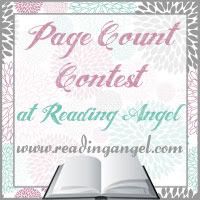 Hi you guys! This is going up a day early because I'm totally OCD [spelled that COD the first go around, pretty sure I'm not a fish] about having only one post go up a day and tomorrow, the actual first day of September, I have a Saturday Short popping up.
Anyway.
Despite starting school the last week of last month I actually read a pretty decent amount, I was satisfied and proud of what I had accomplished. Aside from the fact that I totally went off-roading on my TBR pile and only read like three books from it. But still, August rocked. I even came in second once! This month I'm hoping to do just as good and hopefully even stay on track in regards to my TBR pile because I have a LOT of catching up to do review-wise.
If you haven't yet, you should sign up too! The contest is fun, helps to keep you motivated, and there are PRIZES. Who doesn't love prizes?
WEEK ONE:
Married by Mistake by Abby Gaines [282]
The Rock Star's Daughter by Caitlyn Duffy [310]
Princess Academy by Shannon Hale [336]
Princess Academy: Palace of Stone by Shannon Hale [336]
It's Not You, It's Me by Kerry Cohen Hoffmann [192]
The Sweetest Spell by Suzanne Selfors [416]


Total Pages Read: 1872

I came in fourth this week, which isn't too bad. But I want first. :]

WEEK TWO:
Succubus Blues by Richelle Mead [449]
Succubus On Top by Richelle Mead [369]
Always a Temptress by Eileen Dreyer [395]

Total Pages Read: 1213

Seventh this week, but that's what happens when you're sick. :/

WEEK THREE:
The Indiscretion by Judith Ivory [369]
The Ugly Duchess by Eloisa James [384]
The MacGregor Grooms by Nora Roberts [368]
Joining by Johanna Lindsey [377]
In Your Arms by Rosemary Rogers [380]
The Balverine Order by Peter David [416]

Total Pages Read: 2294

I came in third this week. Man, I have some INSANELY TOUGH competition. :o

WEEK FOUR:
Starling by Lesley Livingston [352]
Everneath by Brodi Ashton [370]
A Touch Mortal by Leah Clifford [419]
Endlessly by Kiersten White [385]
Down To You by M. Leighton [298]
A Perfect Blood by Kim Harrison [544]
The Demon Catchers of Milan by Kat Beyer [288]
Dante's Girl by Courtney Cole [356]
Goliath by Scott Westerfeld [543]

Total Pages Read: 3555