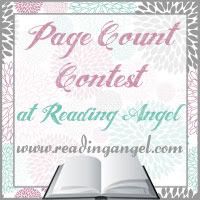 So July wasn't my best reading month ever. In fact, I kind of failed at reading in July. I had one really good week and a couple decent ones and a major fail. I'm determined to make up for lost pages in August though. Why? Because I go back to school on August 27th which means I need a HUGE backlist of reviews ready to be posted at a moment's notice...because who knows if I'm even going to have time to read in September what with my two literature classes, a creative writing workshop and CHEMISTRY. Well, its labeled as a Chemistry class anyway. I'm not sure Science in TV and Film counts. It fulfills my upper division requirement though so I'm good with that...though afraid that the course name is deceiving me, it just sounds too easy. Guess we'll be finding out.
ANYWAY. Me. Reading. Round five gazillion of the Page Count Contest. LET'S DO THIS.
WEEK ONE:
Glitch by Heather Anastasiu [320]
Innocent Darkness by Suzanne Lazear [408]


Total Pages Read: 728

I didn't even rate this week. MUST DO BETTER.

WEEK TWO:
Nylon Angel by Marianne de Pierres [304]
Code Noir by Marianne de Pierres [320]
Touch of Frost by Jennifer Estep [350]
Kiss of Frost by Jennifer Estep [354]
Sweet Evil by Wendy Higgins [447]

Total Pages Read: 1775

I came in fourth this week! That's not bad at all especially considering how bad my page counts have been as of late. My goal for the third week? To read more than I did the previous week. Let's see if I can do it! :D

WEEK THREE:
Kiss Crush Collide by Christina Meredith [313]
A Midsummer's Nightmare by Kody Keplinger [304]
Kissing Shakespeare by Pamela Mingle [352]
Memoirs of a Teenage Amnesiac by Gabrielle Zevin [271]
Sweethearts by Sara Zarr [217]
Vixen by Jillian Larkin [432]

Total Pages Read: 1889

I came in SECOND this week! I can't believe it and I am just so happy with myself. Here's hoping that I can score first in the final week. :D

WEEK FOUR:
Cold Kiss by Amy Garvey [292]
Cowboy Dad by Cathy McDavid [224]
Hired By The Cowboy by Donna Alward [184]
How to Sleep Soundly Tonight by Barbara L. Heller [192]
The Italian's Inexperienced Mistress by Lynne Graham [192]
Maximum Ride: The Angel Experiment by James Patterson [423]

Total Pages Read: 1507

I came in EIGHTH this week. Dayum. Not quite that first that I was hoping for. Just in awe of the numbers of pages my fellow readers must have racked up.
Total Pages Read in August: 5899

As for the month of August? I came in TENTH. Lots of room for improvement there. But as always its a fun event and great for motivation. :]