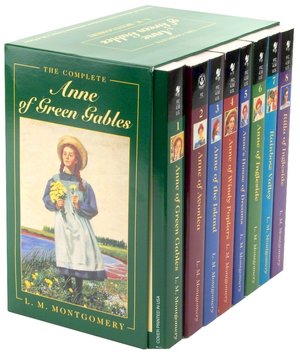 (1) Anne of Green Gables by L. M. Montgomery was one of my absolute favorite series...and still is! Though my set isn't as pretty and matched as this, my edition of the original Anne doesn't match up with the rest of the series which is exactly like this boxed set...minus the box. I think Anne will always have a special place in my heart and I'll always be going back and re-reading her.
(2) Little Women by Louisa May Alcott was another of my absolute favorites, one that I try to reread AT LEAST once a year. And after hunting down this image I seriously wish I was home and could just take a picture of my beautiful hardcover of this book, I was given it when I was...somewhere between eight and ten. I fell in love with it. It was easily the most beautiful book on my young shelves and the story inside was easily loveable too. Though when I was younger I had severe issues with that whole Jo and Laurie thing. Now that I've grown up? Not so much.
(3) Little House on the Prairie Series by Laura Ingalls Wilder. I'm sure you are all sick of hearing me go on about this series since it's made it into a couple of my posts by now so I'll just go with the short version of saying that Little House on the Prairie [the first book I read in the series] was what made me a reader. My third grade teacher forced it on me for a book report and I never looked back.
(4) Great Expectations by Charles Dickens is another of my surprising favorites. I read the Great Illustrated Classics version of this book dozenes of times when I was a kid, only just recently switching over [I think last year] and reading the unabridged "adult version". There was just something that really enthralled my little kid mind with this book.
(5) The Nancy Drew books by Carolyn Keene was my obsession through elementary school and beyond. I had a complete collection of the "originals" in their shiny yellow glory, a few of the new-er modern ones and my Aunt had even started purchasing me some of the thick blue ones that housed the original stories. I LOVED this series.
(6) The Babysitter's Little Sisters books by Ann M. Martin were a quick hit with me when my Mom decided I might not quite yet be ready for the regular babysitter books and this particular one is my absolute favorite. My copy is so worn from rereads it isn't even funny. It was very well loved.
(7) Misty of Chincoteague by Marguerite Henry. I think I might have read every book that this author had ever written. I've always loved horses, even still hope to own a few of them of my own someday. These books were amazing for me. I think Misty will always be my favorite, there's so much heart in this book! Just love. Pure love.
(8)The Heartland Series by Lauren Brooke. As soon as I started reading this series I knew that I wanted to do this. Along with getting my own horse from the island of Chincoteague and racing thoroughbreds [Yep! I read that series too].Looking back now I realize I clung to these books because I could relate to the main character, her having lost her mother and me my father. Part of me still kind of wants to finish this series off, I really was enjoying it all of those years ago.
(9)The Thoroughbred Series by Johanna Campbell. I fell in insta-love with these books and was devouring them as quickly as I could convince my Mom to buy them, in all honesty it's another series I wouldn't mind going back to. Every now and again I get tempted by these at the bookstore.
I think I'm going to have to end this at nine because I can't choose a tenth. Can I just say Beverly Cleary and end it at that? I devoured everything that woman wrote. She was a goddess to my younger self and I still enjoy going back sometimes and rereading her work. If I have to pick just one though I'll go with The Luckiest Girl [which must be my favorite since I own TWO different copies of it, one of which is the one shown below].